Official Flyer - english
EPOS
Evolving Personal to Organizational Knowledge Spaces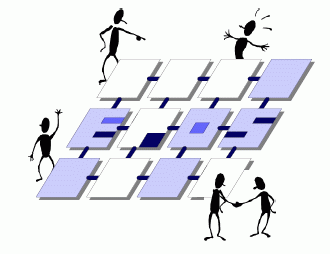 Knowledge workers put a lot of effort during every day's work in structuring their own information. This is done with the help of email tools, file directories, or bookmarks and the way this is done depends highly on the individual manner of working. Contrary to that are the knowledge management goals of a company: global collection, structuring, and distribution of knowledge. Thus, there is a discrepancy between the global benefit for the organization and the personal benefit for the individual knowledge worker. While the organization asks for universally applicable and standardized persistent structures, processes, and work organizations to achieve and maintain universally accessible information archives, the individual knowledge worker requests individualized structures and flexibility in processes and work organization in order to reach optimal support for the individual activities.
Therefore, EPOS investigates a bottom-up evolutionary approach to resolve this discrepancy. The individual knowledge workspace, realized as a set of agents in the knowledge workers' personal computer, will provide adequate and task-specific supporting information to the human. In parallel, the system will observe the work and the users' ways of information access/handling and automatically learn about intentions, structures, ontologies, and work processes. Towards the user, the knowledge workspace thus acts as an adaptive information assistant. In order to present this information that has been gathered behind the scenes advanced Information Visualization techniques are necessary.
The individual face of the knowledge workspace is complemented by globally oriented sharing and exchange facilities. Interacting agents from different workspaces synchronize information needs, balance structures, ontologies, and process models, and exchange context-specific relevant information. A society of agents, represented by the collection of individual knowledge workspaces, will thus reach a common and shared understanding of the structured information and knowledge used in their realm, and finally, contribute to the organizational memory.
---
modelling user's workspace, techniques for user observation and context identification
description of information needs, query modification for collaborative information retrieval
communication structures in interacting knowledge workspaces
leveraging individual native information structures to models and ontologies, evidence calculation for ontology creation
communication and negotiation protocols on the meta-level
ontology-based visualization components, configuration rules for task-specific information-visualization
---
| | | |
| --- | --- | --- |
| Sponsor | | German federal ministry of education, science, research and technology (bmb+f) under contract 01 IW C01 |
| Principal Investigator | | Prof. Dr. Andreas Dengel |
| Partners | | DFKI Department for Intelligent Visualization and Simulation Systems |
| Duration | | January 2003 - December 2005 |
---
---




www@dfki.de

German version can be found here
Created by
manager
Last modified
2016-07-08 05:03 PM