Contact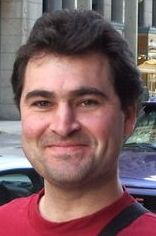 Dr. Sven Schwarz
Deutsches Forschungszentrum für Künstliche Intelligenz (DFKI) GmbH
Forschungsbereich Wissensmanagement
Trippstadter Str. 122
D-67663 Kaiserslautern
Email: sven.schwarz@dfki.de
Phone: +49 631 205 75 1120
About me
I am a researcher aiming at applying artificial intelligence to support personal or organizational knowledge management. As a senior researcher at DFKI, my focus here is on transferring the research in these fields to the industry and to make them ready for daily practice.
Being a semantic desktop evangelist, I push semantic desktop technology into daily business. I develop, maintain and extend a 24/7 running semantic desktop ecosystem fostering the knowledge management in our group.
In private, I play badminton, I like science fiction, and I love board games and computer games. In the past I applied semantic technologies to semantically categorize and compare board games and recommend similar games.
Interests
My career started with research on context awareness in the knowledge work domain. I applied user observation techniques to automatically elicit user contexts and predict context changes. My work encompassed a lot of user interface studies with a lot of conceptual GUI design experiments, aiming at balancing proactive support with unobtrusive work flow. Eventually, my PhD was about Context-Awareness and Context-Sensitive Interfaces for Knowledge Work Support and my interest in this topic still resides.
I am an evangelist of the semantic desktop paradigm and believe that this has the potential to make knowledge management better and easier - for professionals in their offices, as well as, for everyday people at home. My recent activity was mainly technically oriented and focused on realizing such a system for our group, ensure high performance and easy maintenance. As a result we actually have a semantic desktop system, running 24/7, integrated and being used in our daily work routine. The dream come true!
My recent activity is in the field of digital forgetting and preservation of knowledge. Working for the ForgetIT project, we collaborated with psychologists and realized a forgetting component for the semantic desktop allowing to hide or delete irrelevant stuff and enable a better focus for the user. We also realized an active preservation system that goes beyond mere backuping of data and aims at detecting important material and preserve it in a live archive.
Publications
2016
2015
2014
2013
2011
2010
2009
2008
2006
2005
2004
2003
2002
2001
2000